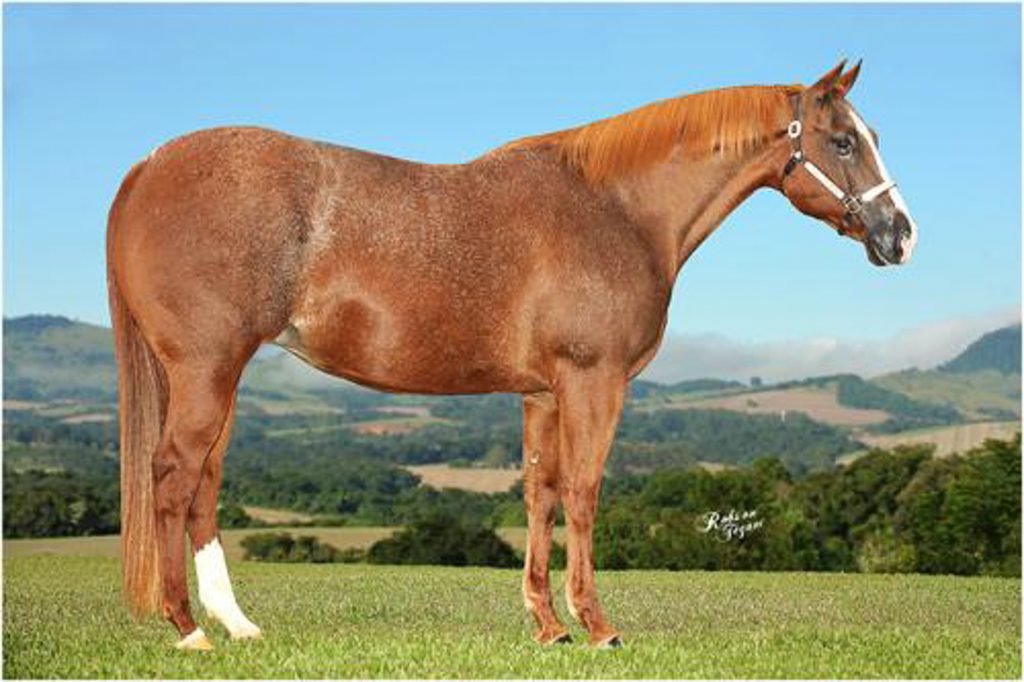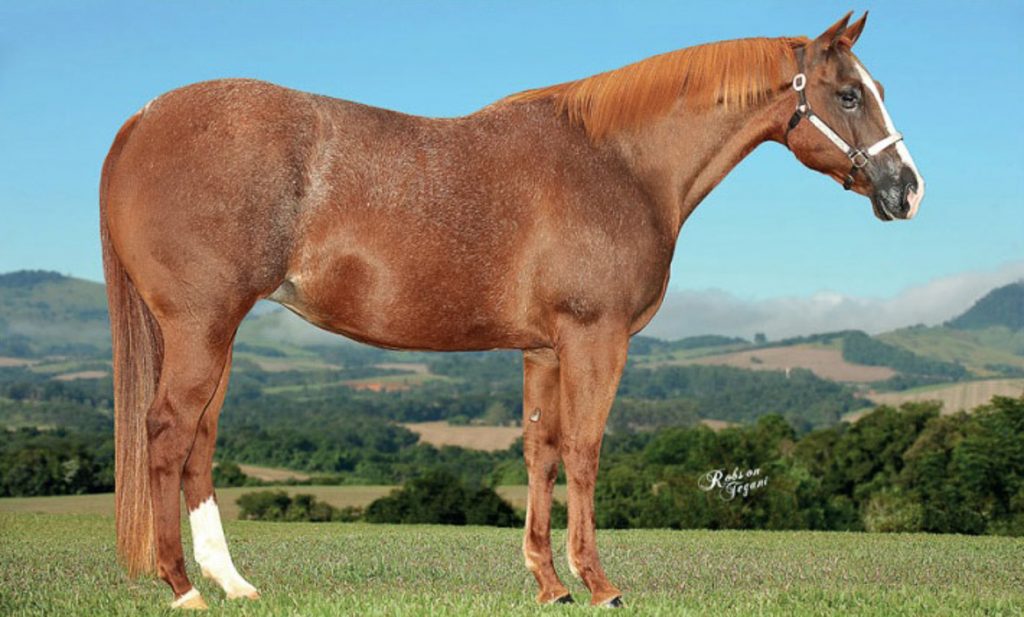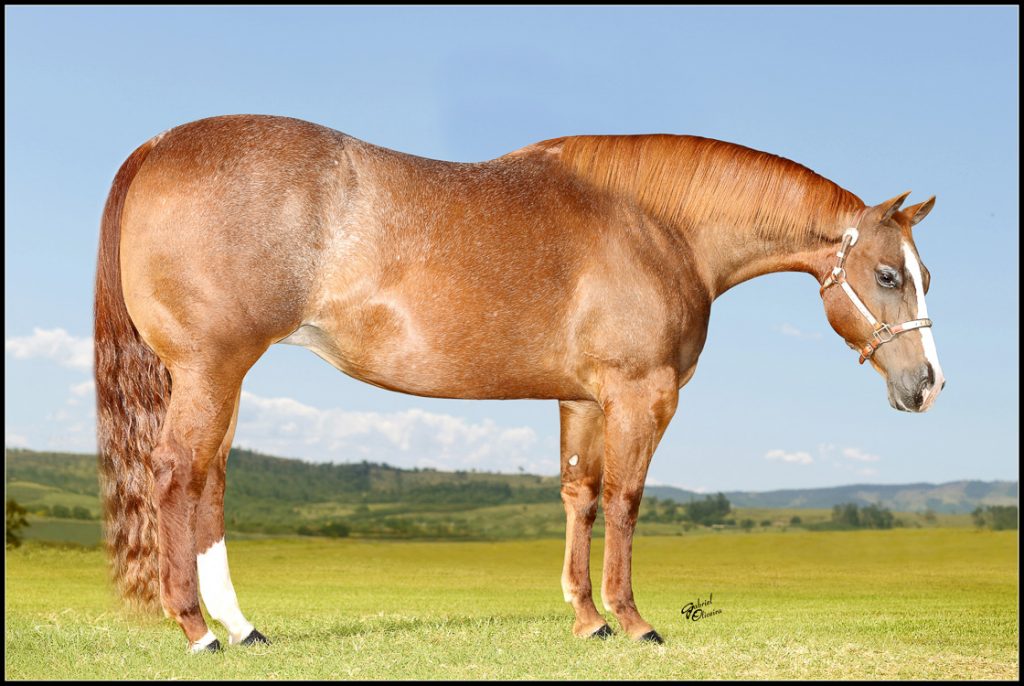 QM PO – P154055 – 17/01/1998– FÊMEA – ALAZÃO/ROSILHO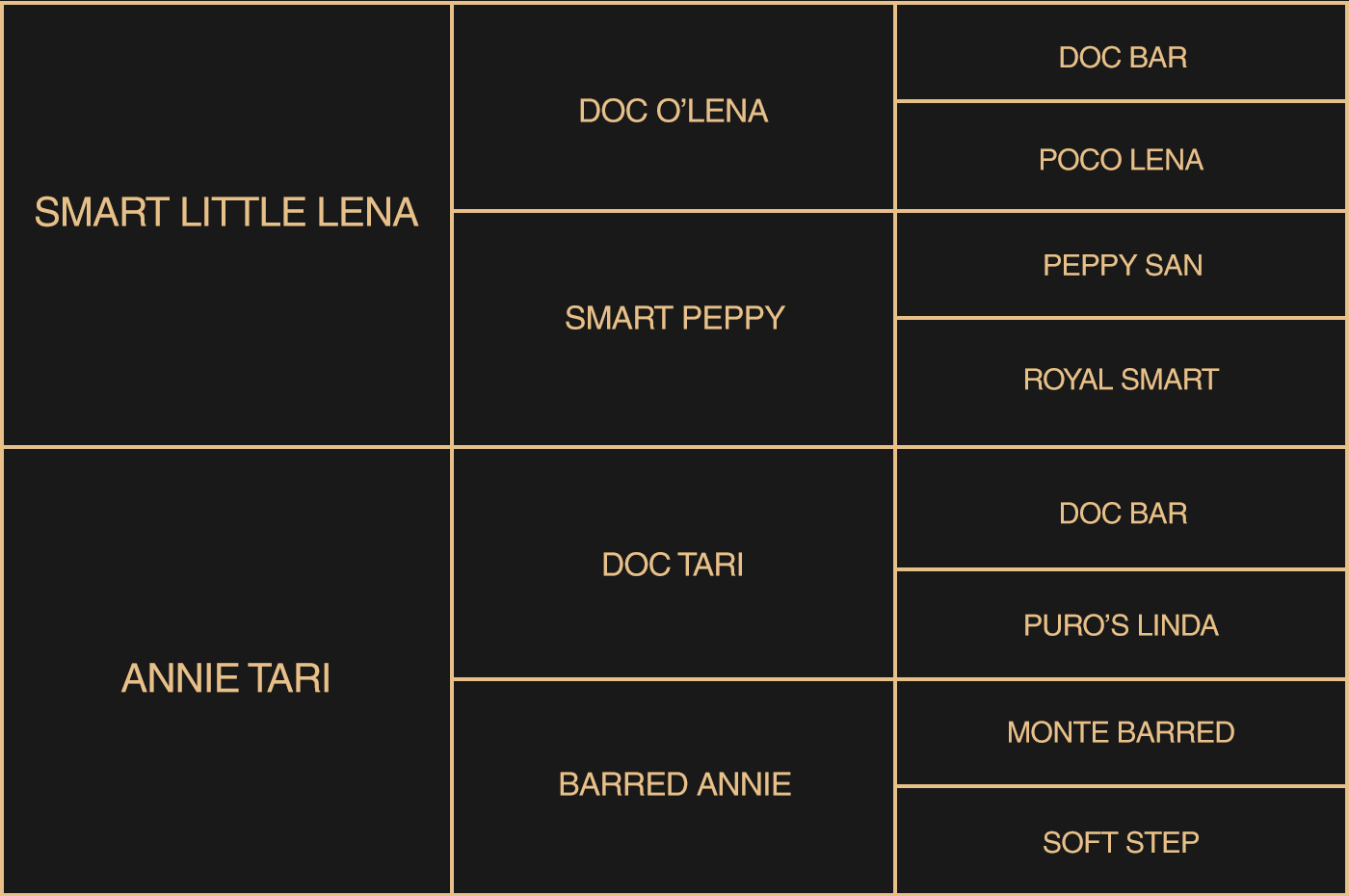 Mãe de:
– LOVES CAT (High Brow Cat) U$ 36.928,00. Campeã (empatada) Idaho CHA Open Derby; 3o.L South Point Winter Open Derby; Res Campeã Montana Sapphire Open Derby.
– ENGAGING CAT (High Brow Cat) U$ 34.086,00. Res Campeã NCHA Senior Amateur Futurity; Campeã (empatada) NCHA Super Stakes Open Senior Rider; Campeã 2014 WCHA Shootout Team Challenge Open e Non-Pro.
– LOVE A CD (CD Olena) U$ 33.522,00. Campeã Congress Open Futurity; Res Campeã State of Missouri Open Futurity; 3o.L NCHA Amateur Classic/Challenge. Mãe de:
– ROAMIN CAT, U$ 89.573,00. Campeão 2014 Tunica 4 Anos Non-Pro Futurity; Res Campeão 2014 Augusta Amateur Futurity
– LOVES ETCH (High Brow Cat) U$ 13.865,00. Finalista Bonanza Non-Pro Classic.
– LUV HANDLES (High Brow CD) U$ 12.743,00. Res Campeã 2014 Kansas Open Derby; Finalista 2014 NCHA Amateur Super Stakes.
SMART LITTLE LENA
U$ 743.275,00, NCHA Triplice Coroado. Campeão NCHA Futurity, Super Stakes e Derby. Campeão Master e Bonanza. 2º. Maior produtor de Apartação, tendo seus filhos ganhos de mais de U$ 43 milhões. No. 1 das estatisticas como avo materno, tendo suas filhas produzido ganhadores de mais de U$ 45 milhões.
ANNIE TARI
NCHA Certificate of Ability.
Mãe de:
-WHAT A DOCTOR (Doctor What) U$ 32.150,00. Res Campeão Gold Coast Non-Pro Derby; finalista NCHA Open Super Stakes, Abilene Spectacular 4 Anos Open Maturity.
– SMARTAR (Smart Little Lena) U$ 31.570,00. Campeã State of Missouri Non-Pro Classic; Finalista Abilene Spect. Non Pro Classic.
– NURSE WHAT (Doctor What) U$ 13.164,00. PCCHA $10,000 Non-Pro Top Ten. Mãe de:
– SMOOTHNESS, U$ 25.335,00. 4o.L Tunica 4 Anos Amateur Futurity; Semi Finalista NCHA Open Futurity.
– WHAT SMOOTH MASCARA, U$ 23.386,00. Finalista NCHA Amateur Super Stakes; 3o.L Arbuckle Mountain 4 Anos Amateur Futurity.
– CHICKOCHET, U$ 17.377,00. 3o.L Breeders Invitational Limited Non-Pro Derby.
– WHAT A SMOOTH CAT, U$ 10.111,00. 5o.L ACHA World Open.
– RANK (Eatin Out). $10,098 and 45 AQHA points: split 4th, Abilene Spectacular Amateur Classic; 4th, AQHA High Point Amateur Cutting; Open & Amateur ROM.
– TARI WHAT (Doctor What) U$ 6.139,00. Semi Finalista NCHA Open Futurity. Mãe de:
– RICOCHET ROOSTER, U$ 148.708,00. Res Campeão NRHA Open Futurity; 3o.L NRHA Open Derby e NRBC Open Derby.
– RIO JUICE, U$ 35.806,00. Finalista NRHA Non-Pro Futurity; Campeão NRHA Cowtown Classic Non Pro Futurity; 3o.L 2014 Euro NRHA Int. Non Pro Futurity.
– WHATS ON JUICE, U$ 23.533,00. Campeã Michigan Reiners Bay Non-Pro Derby.
– WHAT A ROOSTER, U$ 18.579,00. Top Ten NRHA Novice Open e Novice Non Pro.
– SKEETO WHAT, U$ 10.448,00. 3o.L Hollywood